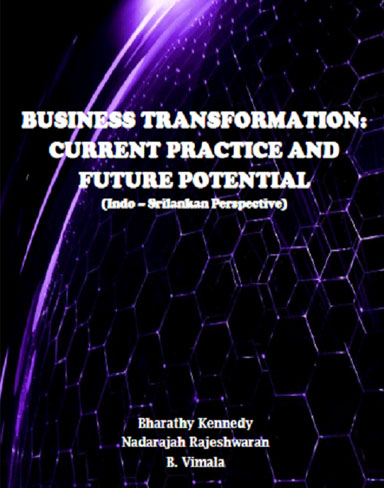 About The Editors

Dr. Bharathy Kennedy is a product of the Eastern University, Sri Lanka and now she is a Senior Lecturer G I in Department of Management, Faculty of Commerce and Management (FCM), Eastern University, Sri Lanka. Her primary education was initially at St.Therea's Convent, Batticaloa and then at the Kodamunnai Junior School followed by Vincent Girls' High National School, Batticaola, Eastern part of Sri Lanka. Thereafter, she completed the Masters Degree at Rajarata University of Sri Lanka and obtained her PhD at Annamalai University, India.
After her Bacholers degree she was selected for Sri Lanka Accountancy Service and worked as Zonal high court Accountant, Batticaloa, Sri Lanka. Subsequently she was selected into the Sri Lankan Administrative Service and worked as Assistant Divisional Secretary, Koralaipatru, Valachenai. She is a resource to Naval Officers Long Logistics Management Course at Naval and Maritime Academy at Trincomalee. Her research interests are Consumer Behaviour, Marketing, Management and Gender Studies. She could be contacted at: kennedybharathy@yahoo.co.uk or kennedyb@esn.ac.lk

Dr. Nadarajah Rajeshwaran is a Senior Lecturer Grade I in the Department of Commerce, Faculty of Commerce and Management (FCM), Eastern University, Sri Lanka. He studied at St. Michaels' College National School, Batticaloa, Sri Lanka. He received BCom (Hons) first class from Eastern University, Sri Lanka and MSc. in Management Specialization in Accountancy from University of Sri Jeyawardenapura, Sri Lanka. He earned PhD at University of Colombo, Sri Lanka.
He also completed Higher National Diploma in Accountancy (HNDA) at Sri Lanka Institute of Advanced Technological Education and completed Certificate in Teaching in Higher Education (CTHE), University of Colombo. He is accredited Teacher in Higher Education and awarded Professional Development Award in Learning, Teaching and Assessing from Staff and Educational Development Association (SEDA) (UK). He published several research findings in international conferences and journals as well as chapters in recognized international publisher. He was Coordinator for Postgraduate Studies Unit, FCM. He is currently the Coordinator of Faculty Quality Assurance Cell. His research interests are Environmental Accounting, Capital market and Computerised Accounting. He could be contacted at: rajesh@esn.ac.lk or rajesheusl@gmail.com.
Dr.B.Vimala B.sc.(Agri).,M.B.A.,M.Phil.,Ph.D. is working as Associate professor in the Department of Business Administration, Annamalai University, India. She has more than 18 years of teaching experience at P.G level. She has won the best Doctoral award for her research on stress among women IT professionals. She has awarded best women research award and Best Young Researcher award by Annamalai University.
She has conducted international FDP'S for faculty members of Eastern University, Srilanka and conducted development programmes on management games for faculty and students . Her research guidance includes 5 Ph.D., 11 M.Phil.& 60 MBA., She has published more than 50 articles in the national and international journals. She is the member of review panels for international journals. Her field of specialization is Human Resource Management. She could be contacted at athishmom@gmail.com.