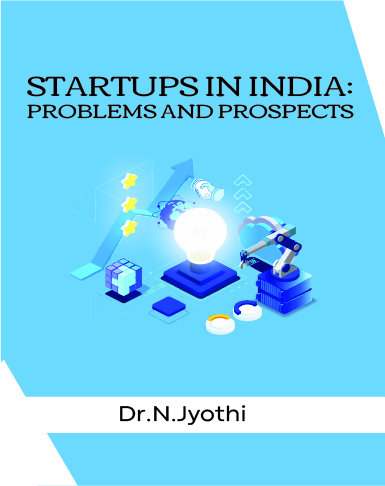 About The Editor
Dr. N. Jyothi has completed her M.Com from University College for women (Autonomous) Koti, Hyderabad, Ph.D from Dr. BRAOU, Hyderabad and MBA (HRM) from PGRRCDE, Hyderabad. She is currently Assistant professor at the department of Commerce and Business Management, Girraj Government College (Autonomous) Nizamabad affiliated to Telengana University. She has more than 25 years of teaching experience in UG and PG. She has published more than 25 papers in reputed national and international journals.
Her areas of research are finance, management, women and gender studies. She is currently Women Empowerment Cell Coordinator in the college. She is also the Additional Controller of Examinations at Girraj Government College(A), Nizamabad. She has delivered around 10 extension lectures for graduate, post graduate and to faculty members on different academic and research oriented topics. She has served as Head, Department of commerce for 11 years and acted as Academic Coordinator for one year.
She acted as the Technical Chairman at 2 National seminars. She was awarded the Best paper award in Technical session in the National Seminar conducted at Govt. Degree College (A) Siddipet. She was instrumental in guiding, mentoring the students and helping them to present papers at national and international fora. Her contribution to research and mentorship in student study projects "Jignasa" was appreciated by CCE. Her contribution to syllabi revision of B.Com was appreciated by TSCHE.
She published articles in 4 ISSN and 12 ISBN books. She has attended 12 FDPs, 4 RCs and 1 OC. She has organized 1 National Seminar and 4 workshops. She is also an active member of Telangana Commerce Association and Non-Life member of Indian Commerce Association. She is the member of board of studies, commerce department of GGC(A), Nizamabad.
About The Book
Startup India is a flagship initiative of the Government of India intended to build a strong eco-system for nurturing innovation that will drive sustainable economic growth and generate large scale employment opportunities. All most all the paper contributors have put in their best efforts to put forward their research pursuits. This book introduces multifold aspects in the field of startups. The "Make in India" and "Digital India" initiatives and other government initiatives have given a boost to startups with many individuals entering the field. The book presents a varied approach of many researchers in presenting their views and opinions. Startups are the engines of exponential growth, manifesting the innovation with catalytic technological effect. Today's Indian youth are the largest users of internet technology and many entrepreneurs are making waves in the field of startups. Yet, India faces problems. There are many approaches to deal with problems and every researcher tries to offer his solution to a practical problem. The book offers multidisciplinary thinking to students and everyone else interested in understanding the world from a new perspective. The book also talks about research in the area of Skill development, Green entrepreneurship, Aarogyasri scheme, Academic startups and angel investors. It is a compilation of thought process from several burning and growing areas of practical exposure.