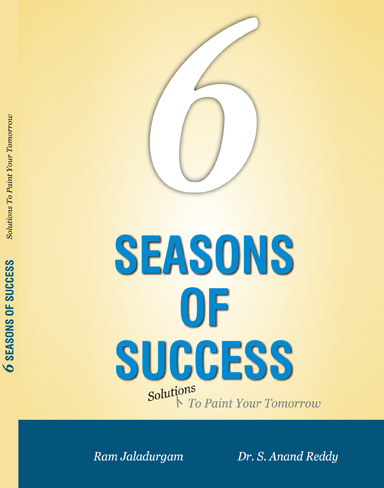 About The Book
Every season in the nature will create both comfort and uneasiness. One should know how to live with it. If the nuances of changing nature is understood, next level is enjoying the seasonal change. Life has many seasons of various conditions, environments and feelings. Every change in life will test the mental strength and physical survival of a human kind in the process of achieving success. This book prepares the reader with practical tools to strengthen and enjoy 6 SEASONS OF SUCCESS irrespective of Age, gender, profession, location, stage, personal, professional, social, spiritual etc.
This handy book is not merely highlighting problem behaviours to grasp success, but suggested guidelines. The USP of this book is 'Exercises for better results' and 'worksheets' at the end of every season, which serves as definite solutions.......to paint your tomorrow.
About The Author

Dr. S. Anand Reddy, has completed two degrees (Bachelor of Arts and Bachelor of Philosophy), two Master degrees (Master of Business Administration and Master of Counselling and Psychotherapy), and doctoral degree (PHD) on Servant Leadership. Apart from his qualifications, he is a certified as a Trainer, Psychometric analyst, Organizational Development Analyst, NLP Practitioner etc.
In 12 years of experience, He has contributed to the development of the employees in various organizations and institutes. Apart from being a trainer he is a researcher as well. He has published over 30 national and international research articles and paper presentations. He has shared his knowledge by writing articles in various Magazines, writing books, addressing as a guest speaker on various occasions, and TV shows. He has associated with professional bodies of Hyderabad chapters like NIPM, ISTD, HMA, AIMA, NHRD. He worked with various organizations and currently with Hetero Drugs as HR professional. He can be reached on anandofm@gmail.com
Ram Jaladurgam is a passionate Talent Development professional with M.Phil. In Psychology. Heading Learning & Development vertical in a reputed pharmaceutical company. His diversified and versatile experience in Sales, Marketing, Electronic Media, Business operations, Counselling Psychology, Talent Development, Public speaking and Brain Based Coaching helped him to travel through Human potential exploration.
He also earned Asia Training & Development Excellence Award 2016 for his organization. Also well known for his 'Body Language' sessions in the training fraternity. His videos on multiple topics are streamed on YouTube. Currently pursuing his Ph.D., in Positive Psychology Numerous interactions with people in 26 years of working profile, umpteen no. of Training sessions in various industries contributed him to emerge as a professional of performance. He strongly believes that 'Circumstances do not make any one behave in certain way' they only reveal real you' Helping people in giving new insights, Identifying latent abilities, motivating for achievement are his daily happy pills. He can be reached on ramusky@gmail.com