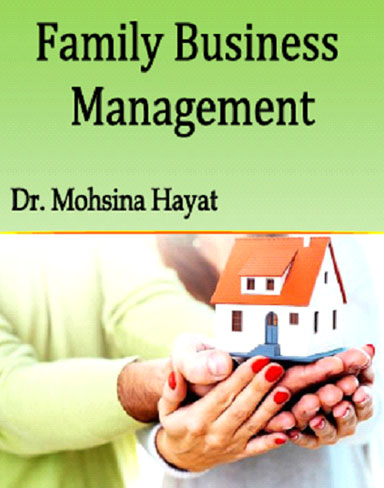 About The Book
Indeed, this book is an analytical investigation of family business management in India and rest into the world. Students are able to understand that the family business is necessary for all round Socio-economic development because it is traditional adopted business. The book is an attempt to provide basic acquaintance and a complete conceptual understanding and challenges and schemes, strategies and rules and regulations of family business so that family business helps in the economic development of the countries.
The book reveals the progress level of family business rises in a creative and innovative way, new technology used in an exist business that needs for the socioeconomic development of any the countries. An author expresses Family business management is the lifeblood of the family business as in all round the economic development of the world major business holder that are having a family business.
Study to apply and focuses on the limitations of family business (i.e. succession planning) and suggests and recommends measures to be adopted by the family businesses on improving the capabilities of their business. Family business management studies to involve allocation of capital and financial resource between the business and family demand, authorise people to control and have decision-making power in the family and firm, Selection of succession, senior leadership and governance positions in the firm or family, conflict of the human relationship among the family and firm and culture value to need sustained and transmitted to owners, employees and younger family members. The study applies in making the planning policies that improve the family business in all over the world.
About The Author
Dr. Mohsina Hayat is academically associate with Jamia Millia Islamia (a Central University), New Delhi to inculcate knowledge among the PG and UG aspirant. She has 20 years of teaching, research and Administrative experiences with M.A. (Economics), MBA (Finance) and Ph.D from department of commerce and Business Studies. She has vast experience of teaching economics and its applied subjects in different courses such as MBA, MCOM, BBA, BCOM etc. She has design course like MIB in Arya School of Management, Jaipur. She guided various dissertation and project under the PG and UG programmes on different research topic of Finance, HR and Marketing in alliance of Economic.
Assist book on Entrepreneurship and has published various research papers and articles in different journals and conferences.
She has been working in Centre of Management Studies since 2016 (continue) as Guest faculty, Centre of Distance and Open Learning, Jamia Millia Islamia since 2011 (continue) and Indira Gandhi National Open University 2017 (continue) as an academic counsellor and earlier she had worked with Aligarh Muslim University in 2000 -2007 as Assistant professor, Post graduate teacher and Guest faculty. She taught to aspirant of Arya College of Management in 2007-2011 as Assistant professor, controller of examination for internal MBA, BBA examination and BBA Coordinator.
She has been associated with various other responsibilities such as conference coordinator, coordinator of faculty development programmes, supervise the library digitalisation programmes, coordinator for various cultural and annual fest of University.