About The Book
The book investigated the psychological and social Correlates of Burnout Among policeman in Nigeria. It x-rayed the burnout syndrome among these service men who put their lives on line to save others at the expense of their own health , family and their leisure time. They work round the clock observing shifts and attending to emergencies that occurs at odd hours of the day. Other persons that are involved in what I described as" High Touch Profession or People Oriented Services " are not left out from this silent syndrome that eats the person like erosion digging hole gradually until a big gully is seen by all. The book also discussed the various symptoms of Burnout, the difference between burnout and stress, . The three major dimensions of Burnout was equally explained in a very simplistic manner. It did a thorough review of research that has been carried out by researchers in this area using other populations and their findings. Finally the book gave recommendations on how servicemen should work smart, moonlight and acquire other coping skills that will help them to keep operating at an optimum level and in good health. Burnout Syndrome among service men is indeed a resource material which will be unarguably be of immense use to all persons who do people oriented services. The practical issues discussed in this book has made itself timely, most relevant and should be given a prominent place in our libraries and in the recommended books list for graduates of counselling psychologist, Policemen, soldiers, social workers. and indeed all persons that spend hours talking and solving their clients problems. Enjoy your reading.
About The Authors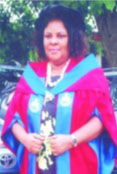 Dr. (Mrs) Rosemary Obiagaeri Ekechukwu hails from Umuomumu, Umueze Mbieri in Mbaitolu Local Government Area of Imo State, Nigeria. She had her primary and secondary education at Central School Eziudo and Mbaise Girls Secondary School Onicha, Ezinihitte Mbaise respectively.

She proceeded to Federal College of Education Pankshin, Plateau Sate where she had her N.C. E in Business Education. She obtained her Bachelor of Education B.Ed), Master of Education (M.Ed) in Guidance and Counselling from the University of Jos, Nigeria. She obtained her Doctor of Philosophy (Ph.D) in Educational Psychology, Guidance and Counselling at the University of Port Harcourt.
Among her academic honours, Dr. Rosemary was one of the few graduate students in her time to earn the covetous and highly competitive Post Graduate Scholarship Award of the Federal Government of Nigeria in 1997/1998 Academic
session.
Dr. Rosemary is currently the Associate Dean of the Faculty of Education and a Senior Lecturer in the Department of Educational Psychology, Guidance and Counselling,
University of Port Harcourt, Nigeria. She is a prolific writer has the following textbooks to her credit:
Counselling Practicum Made-Easy.
Adolescent Sexuality and Reproductive Health Counselling.
New Dawn in Counselling Psychology.
Introduction to Group Dynamics and Procedures in Counselling Psychology.
Principles and Techniques of Guidance and Counselling.
Introduction to Educational Psychology.
Introduction to Guidance and Counselling.
Introduction to Physiological Psychology.
She also has well over 60 articles in reputable Educational Journals (National and International). She is an active member of Counselling Association of Nigeria (CASSON), International Association for Gender Equity (IAFGE), National Association of Women in Academics (NAWACS), Nigerian Association of Educational Administrators and Planners (NAEAP), International Society of Social and Behavioural Development (ISSBD), Indian Academicians and Researchers Association, and Association for Educational Communications and Technology (AECT). Dr. Rosemary is happily married to Rev. Engr. B. C. Ekechukwu and their marriage is blessed with five children.